★★★★★Wow
Great product to clean the day out of your beard!! - Damien
Carefully selected and sourced ingredients
Men like us take pride in our beards, but keeping them healthy and looking good can be a challenge. That is why we set ourselves to the mission to provide the best ingredients in our formulas.
Designed to keep your beard soft
Our beard wash and conditioner are unscented to allow you to apply your favorite Chattanooga Beard Co. products after making that beard nice and clean!
GET YOURS!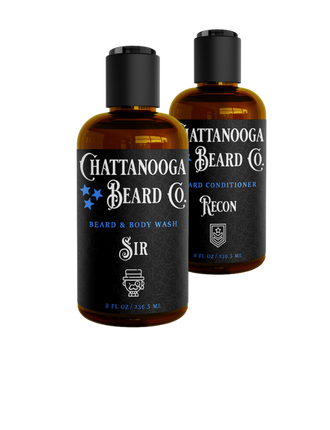 Your Morning Routine
Most men start their morning with the three S's, while we agree with the first two we strongly advise against shaving. 
When you work as hard as you do, you sleep just as hard and with that comes the morning mane, dry or flaky skin, brittle beard hair, and the dreaded beard itch… below we've put together a few simple steps to help you start your day off right so you can go conquer the world.
1.) Beard Wash & Conditioner:
Sometimes your beard seems to have a mind of its own and that unruly beard goes wherever it wants. To combat this you need to wash and/ or condition your beard to "reset" the hair back to its original position. 
2.) Beard Oil
Washing your beard resets the hair, but also removes all of your body's natural oils from your beard and skin. You'll want to supplement with beard oil to provide moisture to the skin and hair offering protection, vitamins, and irresistible fragrance that'll get everyone around you wondering what you're wearing!
3.) Beard Balm
A little balm melted in your hands and applied to your mane offers hold to help shape and style your beard. (don't worry it won't make your beard stiff) also, you'll lock in moisture and provide lasting protection to your beard throughout the day.
4.) Drink Water
Staying hydrated is a simple part of taking care of your beard but it does get overlooked. 8-10 glasses of water a day will do wonders for your beard!
Now get out there looking, smelling, and feeling your best and kill a deer with your bare hands, get a promotion at work, or have the confidence to ask that woman in your life out on a date. Conquer Your Beard, Conquer Your Life.
Read more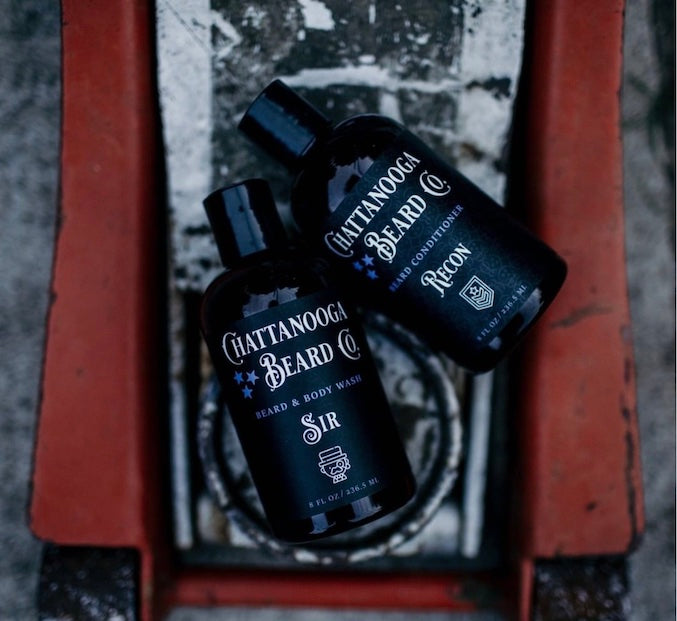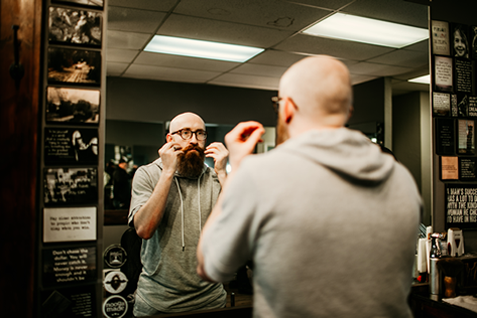 Let's face it, men are often met with over the top stereotypes like "eating raw meat", "killing animals with our bare hands", and "pouring gunpowder into our wounds" and all of these statements are true, but we still need to take care our ourselves! We've put together a few reasons why beard health is important so you can soak up this knowledge and get back to being a man.
1.) Soften Your Beard
If your beard is course enough to clean pots and pans with it, you're in need of conditioner! Using Beard Conditioner, Oil, and Balm are all great ways to soften that mane so you can run a comb through it.
2.) Stop Beard Itch 
Nobody on this plant has experienced dry skin like a bearded man. (Except maybe folks with eczema or poison oak on their lower region) but in all seriousness keeping your beard and skin moisturized is how to stop beard itch and beard dandruff once and for all. Keeping the skin moisturized also creates an environment to promote growth and strengthens the hairs for a fuller thicker beard.
3.) Increase Confidence
Maintaining a moisturized manly mane is the main move to make to manifest more manliness. (Say that 5 times fast) As men, we want to look our best and by implementing a routine for better beard health we can look and feel better about ourselves. Most women prefer a well groomed beard so if you're going to grow one you want to make it the best it can be. 
As your beard grows longer and as you use Chattanooga Beard Co. products you'll notice more and more well deserved compliments. People will begin to ask you what you're wearing because our scents are irresistible and you'll even get random strangers sticking their nose into your beard (I wish I could say that's a joke, just start charging them money and make some extra cash on the side). Taking care of yourself is vital to a man's day to day life, so use the tips to dominate your beard health.
Read more
For best results pair with other products
Fantastic!
My beard seems softer and the wife loves it.
Great conditioner
Highly recommend this conditioner. Leaves my beard feeling soft and knot free. Unscented so it doesn't mess with the scents of your beard oil. All in all a great conditioner at a great price. Will be my go to moving forward.
Love it!
It was a gift for my boyfriend and he absolutely loves it! It makes his beard feel nice and soft.
Great conditioner to make your beard smooth and silky and ready for the oil and balm!